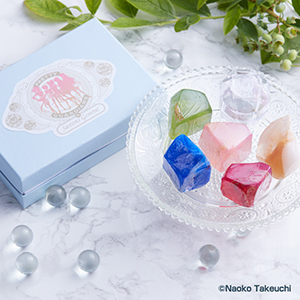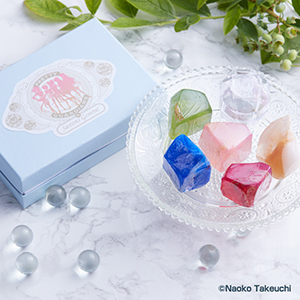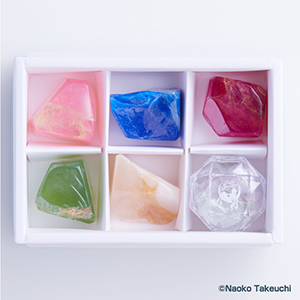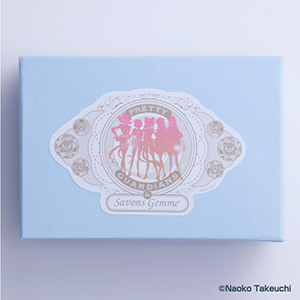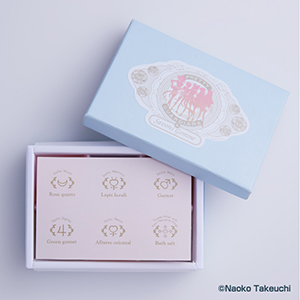 [Pretty Guardians Members Only] Pretty Guardians x Savons Gemme, Little Gem + Mini Bath Salt Set, Pretty Guardians ver.
JPY ¥4,950

(include tax)

(含税)
USD 42.23(plus tax) (as of 19 August 2019 around 20:00)
*Japan Standard Time
* Please confirm the latest rate by yourself

※ If you can not deliver the item due to mistake of delivery destination you can not refund at all. Please be careful.
※This "product" is for overseas members only. Please understand that orders placed in Japan are considered invalid.
※This item can not be purchased simultaneously with other items.

Reservation period: 2 September 2019 (Mon.) 12:00 ~ 30 September 2019 (Mon.) 12:00
*Japan Standard Time
Price: ¥4,500 (excl. tax)
Dispatch: deliveries are expected to take place from early October 2019
Introducing collaborative products born from the combination of jewelry soaps made in the city of perfume in the south of France, Grasse, and the official Sailor Moon fan club, Pretty Guardians!
Soaps designed with the five Sailor Guardians, Tuxedo Mask, and the kings and bath salt will be packaged in a special box for delivery.
Contains natural plant extracts, vitamins, and minerals. This fragrant soap has been carefully devised to be gentle on the skin and to enclose the entire body in an elegant fragrance.
The bath salt is replete with minerals from the ocean water. Enjoy the traditional French cosmetic and health treatment of thalassotherapy in your own bath at home.

[Product Details]
Size: W14xD9xH4(cm)
Weight: approximately 215 g
Country of origin: France

▼ Little gem
・Sailor Moon (Rose quartz)
・Sailor Mercury (Lapis lazuli)
・Sailor Mars (Garnet)
・Sailor Jupiter (Green garnet)
・Sailor Venus (Albator oriental)

<Instruction pertaining to use>
Use gently after lathering well, and rinse thoroughly with either cold or lukewarm water.
<Ingredients>
Water, glycerin, PG, sodium laureth sulfate, sodium stearate, hydrogenated palm oil, hydrogenated palm kernel oil, PEG-20 glyceryl oleate, glucose, sodium laurate, sorbitol, sodium carbonate, sodium laureth sulfate, sodium dodecylbenzenesulfonate, sodium xylenesulfonate, fragrance ingredients, jojoba seed oil, dextrin, aloe vera leaf extract, pentetic acid 5 Na, almond oil, etidronic acid 4 Na, olive oil, sodium chloride, sodium sulfate, sodium myristyl sulfate, stearic acid, lauric acid, eucalyptus flower extract, chamomile extract, lavender extract, niacin, biotin, pantothenic acid, retinol, cholecalciferol polypeptide, thiamine HCl, riboflavin, pyridoxine, cyanocobalamin, tocopherol, folic acid, ascorbic acid, iron oxide, titanium oxide, gunjou, chromium hydroxide, mica, silica, caramel, copper chlorophyllin Na, blue 1, red 2 2 7, red 3, yellow 4
▼ Mini Bath Salt
・Tuxedo Mask, kings (Oriental)

<Instruction pertaining to use>
Pour in the product into a bath filled with hot water and mix well. Enter the bath once it has completely dissolved.
<Ingredients>
Oriental: sodium chloride, titanium oxide, chromium hydroxide, iron oxide, chromium oxide, fragrance ingredients

[Little gem and bath salt: precautions]
This item is not edible nor drinkable.
Please desist from using the product if you notice any dermal irregularities or irritation.
Avoid high heat and humidity and direct sunlight. Store the item in a place that cannot be reached by children.
Please do not use the circulatory reheating function.
Rinse the bath thoroughly after use to ensure all remnants of the product are washed away.
We cannot recommend using the remaining water for the purposes of washing clothes.
Please be aware that the use of bath salts may not be possible in certain types of baths, including fully automated water heating baths; circulatory heating baths; and 24 hour operational baths. Please refer to the user manual for the appropriate model.
Please be aware that enamel or stainless steel baths may potentially rust. We recommend cleaning it after each use.
General sales agent: Les Savons Gemme, France
*Regardless of the sales period, the product will no longer be available once its stock runs out.
* The design and photos of the product are for illustration purposes only. The actual product may vary.
* Delivery dates may be subject to change.
* Product specifications may be subject to change without notice.
© Naoko Takeuchi
This product is a reserved commodity.
Scheduled to ship
Deliveries are expected to take place from early October 2019
This item is limited to Pretty Guardians Overseas only.
You must register as Pretty Guardians Overseas to purchase this item. To confirm the status of your registration, first log in with ID.